This podcast was recorded during The Digital Nonprofit 2019.
Digital touches every aspect of an organization, so it needs strategic, next-level leadership if its truly going to thrive. Because it's not just the work itself; it's also about the best ways to get the work done. You'll learn how to structure digital teams, and what to ask for and expect from them. You'll also understand the importance of silo busting, iterative processes, collaboration frameworks and how the customer experience (CX) demands of digital can change organizational culture. From strategic culture through leadership, and talent Shoni and Ryann will walk you through the requirements of a thriving digital environment.
And be sure to join us on October 6, 2020 for the next edition of The Digital Nonprofit.
In this recording from The Digital Nonprofit conference Michael Johnston of HJC explains how human centric technology use needs a structured approach that design thinking can help solve. Mike's fast, fun session brings together how the Amish, Stanford Design School, and hjc use design thinking to help make the world a better place.
And be sure to join us on October 6, 2020 for the next edition of The Digital Nonprofit.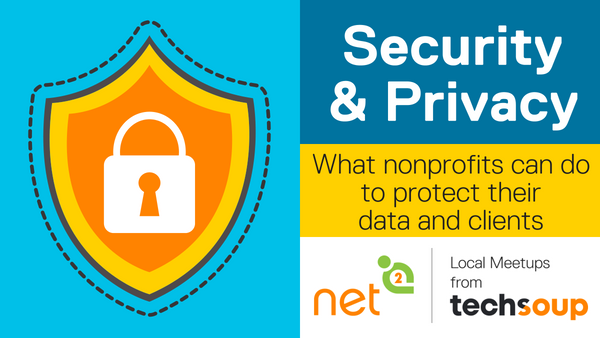 You have a lot of data! How can you keep your member and client information secure? What legal rules does you nonprofit need to follow when it comes to data hosting? What tools and apps won't get your in trouble?
In this recording of Net2van's October 15 meetup we have four experts who will answer all your questions.
We started the event with a case study from Gordon Casey of Brave.coop on their work using tech to prevent overdose deaths.
Alejandra Brown: Introduction to privacy and overview of privacy and data residency rules that apply to BC nonprofits.
Mack Hardy: Five practical things you can do to secure your online self. Policies, 2FA, password managers, and more.
Damien Norris: A suite of curated tools that organizations can use to locally/securely replace the US owned cloud services in their lives.
Kris Constable: IDVPN: a VPN for complying with justistional regulations.
That's it for October. See you in November for our #GivingTuesday meetup.
This event was a hands-on workshop, so there's a couple gaps in the audio when attendees filled out their marketing canvas.
You can view the video and download the template from our website.
Workshop Description
Creating a marketing plan for your nonprofit organization will move you from where you are to where you want to be. Learn real tips and trick to starting out right this year with a plan that you can explain to your team and board.
Learn how to identify the ideal donor you'd like to acquire, map out your acquisition plan, and engage with donors on the appropriate channels.
Our Guest Expert
Lida Tohidi has 11 years of experience in digital marketing, program management, and strategic planning in the tech sector and has utilized her talents for nonprofits as well. She is very passionate about mindfulness, as well as diversity and inclusion, and in 2018 alone, she spoke at 25 tech conferences and events. You can contact Lida through LinkedIn and on Twitter at @lidatohidi
Darren Barefoot hosted a series of short on-stage interviews with three young people – a teenager, a college-student and a 20-something – about how they use technology and social channels.
Recorded live at the HiVE in Vancouver, April 2 2019. See the full event description at https://www.meetup.com/net2van/events/256476241/
And for inspiration to get started check out "HOW TO SPEAK GEN Z"
The technology planning process can be overwhelming, especially for those without any technical background. Where do you start? What are your priorities? How do you fund them?
In this audio recording from Net2van's March 5 meetup Fully Managed walks you through the process of building a technology plan and how to find a Managed Service Provider.
If you need some visuals you can watch the video or view the slides.
Rob Cottingham opens NetSquared Vancouver's annual Tech4Good Trends meetup with a reminder that you can't fake relationships.
We snuck a second meetup into November because we couldn't pass up the opportunity to feature a special guest from Montréal. Antoine Bonicalzi of Cyberimpact introduced our nonprofit members to the basic concepts of email automation and walked us through the flowcharting process.
Listen to the podcast to discover how to start making email automation work for your organization. You will learn:
• How to communicate more often and more effectively with volunteers, supporters and partners
• How to promote events and other fundraising activities
• How to build stronger relationships while saving time and energy thanks to automation
And if you want the slides you can download them from Net2van's website. 
PRESENTER

Antoine Bonicalzi has been involved in digital marketing since 2009. Occupying key roles in several agencies, he has helped hundreds of small businesses and organizations succeed with digital marketing.
Today, as the Marketing Director for Cyberimpact, a Canadian email marketing and marketing automation platform, Antoine has the responsibility of growing its user base across the country. His role involves communicating the secrets of email marketing and marketing automation to Canadian businesses and organizations through articles, training workshops and seminars.
SPONSORS
A HUGE thanks to our amazing community partners and sponsors. Give them love! Spend $$ with them!
In this presentation campaigners and fundraisers from any size organization will learn to use big data in a way they haven't before. They will learn how to better target their messaging to influence people within their organization's community to encourage them to give a gift or volunteer.
Whether through a direct mail appeal, cross fundraising approach or a face to face ask, data can help.
Slide are available for download.
PRESENTER
Allen Davidov is Director of Business Development at Environics Analytics in the not-for-profit practice. With nearly twenty years of experience, he is responsible for helping charities and foundations apply EA's products and services to attract and retain donors, corporate partners and volunteers.
Prior to joining EA, Allen successfully led marketing, annual giving, leadership giving and event initiatives at a number of organizations, including Sinai Health Foundation, Habitat for Humanity GTA, Canadian Breast Cancer Foundation, St. John's Rehab Hospital Foundation at Sunnybrook Health Sciences Centre and North York General Hospital Foundation.
Allen is also an active member of the Canadian Marketing Association Not-For-Profit Council. He holds a Master of Business Administration degree from the University of Liverpool, a Bachelor of Commerce degree from Ryerson University and a Creative Advertising diploma from Centennial College.
SOCIAL LOVE
Hosted by @elivdg
Presented by @net2van
Venue partner @hivevancouver
PRESENTER
@AllenDavidov of @EnvironicsA
SPONSORS
@iatspayments @VCN_Community @techsoupcanada @NTENorg
A strong fundraising program is an essential part of building a thriving non-profit. But when you have a small team and limited resources it can be hard to know where to focus.
In this presentation, Fawkes + Holly shares research and experience on how to retain the donors you've worked so hard to acquire. Listeners will finish feeling encouraged, equipped and armed with practical tools you can start implementing immediately.
Janet Edmison, Principal at Fawkes + Holly
Janet is a strategic thinker with experience fundraising for small and mid-sized non-profits including Cystic Fibrosis Canada and Union Gospel Mission. Passionate about sharing the vision and mission of organizations making an impact around the world, Janet excels at developing strategies and materials that change the game for small teams with limited resources. As a consultant, Janet has worked with dozens of organizations facing challenges in building and maintaining a sustainable fundraising program.

Produced by Ashleigh Turner @SexWithAshleigh
Hosted by NetSquared Vancouver @net2van
Venue partner HiVE Vancouver @hivevancouver
PRESENTER
@fawkesandholly
SPONSORS
@iatspayments @VCN_Community @techsoupcanada @NTENorg