The Digital Nonprofit Conference is ready to take you and your organization to the next level of tech success. This year's line up of presenters includes experts in the tech, nonprofit and private sectors, delivering deep dive discussions on topics ranging from:
Capacity planning in the digital world
Choosing the right tech tools to suit your organization's values
Cultivating digital talent
Digital fundraising & donor engagement
Building community engagement strategies with corporate partners
Discover our full line-up of experts in the conference agenda .
When the Circus Came to Paris: Lessons Learned from the Climate Talks
This past December, the Paris climate talks were the greatest show on Earth. What lessons can we extract from 16 days of media frenzy, all-night negotiations and bad baguettes? Darren shares stories and hard-earned wisdom about digital communications from back stage at COP 21.
Darren Barefoot
Twitter: @dbarefoot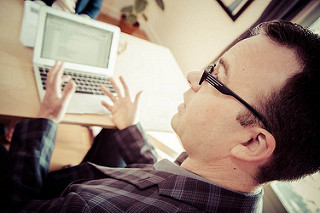 Darren Barefoot is a writer, technologist and marketer. He's co-founder of Capulet Communications where he heads a unique movement-marketing program designed for cause-based organizations and leaders ready to engage online movements. He speaks regularly as a digital strategy expert and has been featured on the CBC, BBC and in Wired, the Wall Street Journal among others. He's the co-author of Friends with Benefits: A Social Media Marketing Handbook. He's also authored a number of e-books, the most recent being "The Noble Arsonist: Tips for stoking fires and igniting movements for NGOs (and companies that care)". He recently returned from two years at the United Nations climate change secretariat, where he was consulting on digital strategy.