Net2van and our community partners have some great events scheduled for the next two months. Keep reading for our August and September lineup.
UPCOMING NET2VAN EVENTS
All NetSquared Vancouver events are free or by donation.
The End of Slacktivism: How to Understand, Facilitate & Deepen Online Engagement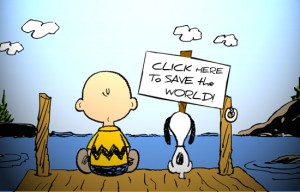 When: Tuesday, August 5
RSVP: http://goo.gl/LQHZU1
How do you visualize an engagement scheme that fits your organization? What tracking is needed and what it will cost you? Find out how one the leading Canadian online advocacy groups, OpenMedia, understands and facilitates online engagement and learn how you can can help your supporters find their way to deeper online engagement.
$ocial Media? Using small wins to grow social media revenue
When: Tuesday, September 2
RSVP: http://goo.gl/7ZXBQ7
Many organizations have found that a strong social media presence has not yet translated directly into significant fundraising revenue.The BC SPCA's Shoni Field will share their experiences using a 'small wins' approach to growing their social media sourced revenue.
Case studies include: BC SPCA Medical Emergency, Second Chance Holiday Campaign, Calendar Contest and National Cupcake Days.
UPCOMING EVENTS FROM OUR COMMUNITY FRIENDS
Groundswell Open House
When: Monday, August 11
RSVP: http://groundswellcommunity.ca/next-open-house/
Come if you're interested in applying, checking us out, learning more, volunteering and/or just wondering what we're up to. Groundswell offers three intensive alternatives-to-business programs bringing together 30 youth under the age of 35 to work individually and together to rethink economic logics and build new projects.
Creating Your Digital Strategy – An Evening with Matt Toner
When: Wednesday, August 20
RSVP http://goo.gl/xwnIzL
Matt will share his personal experience in developing digital media strategies for film, TV, gaming and interactive media. This is an opportunity to learn and connect with Matt in an intimate, workshop style setting.
Importing & Global Change in the Raiser's Edge
When: Thursday, September 18
RSVP: http://goo.gl/I73o7G
This event will cover the topics of Importing and Global Change, Add & Delete inThe Raiser's Edge.
Baird Hall from O-matic Software will be presenting on Import-o-matic, an advanced and flexible import utility for The Raiser's Edge that saves organizations countless hours by streamlining and standardizing imports.
===
Got an event that should be in the next newsletter? Let me know!