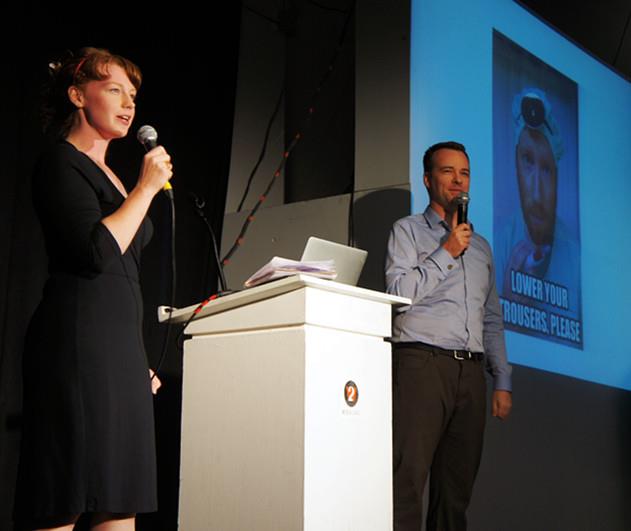 How can your non-profit 'win' on Facebook? Many organizations measure their success on this platform using likes, comments, and shares. That's why Darren Barefoot and Theo Lamb of Capulet Communications decided to look at what actually works on Facebook, and what type of content tends to gather high engagement.
Darren and Theo analyzed 1000 posts from large environmental NGOs, and they shared their study's findings at the September 2012 NetTuesday meetup. Here are some of their tips on how your non-profit can rock Facebook:
Tip #1: Be more visual.
Looking at the top 10 posts from Darren and Theo's study, one thing you will immediately notice is that they are all photo posts. Social is becoming more visual (just ask Pinterest and Instagram), so share photos and videos as much as possible.
Tip#2: Go beyond visual — add simple overlay text to your photos.
Being visual is important, but if you want your Facebook followers to take action, you have to include some information and a call to action. When adding text over your photos, keep it simple and aesthetically pleasing. Also, avoid including too much information.
Tip #3: Share timely photos.
When thinking about photos to share, tie in special occasions and holidays.  For example, Surfrider's Valentine post received tons of comments and likes.
Also, keep your eye out for memes, or content (usually photos and videos) that go viral. Think creatively about how you can leverage these in freshening up your Facebook content.
Tip #4: Share links to websites other than your own.
You've heard this before, but now data supports it: People are more likely to engage with your Facebook content if you often share links to websites other than your own. You can still link to your websites once in a while, but for the most part, linking to others is best practice.
This is akin to a cocktail party. Would you really talk to someone who only talks about himself? It's more interesting to talk to someone who has varied interests and who cares to ask about your story.
Tip #5: Experiment, experiment, and experiment some more.
Darren encouraged Net Tuesday participants to continue to experiment on Facebook and to use tools such as Facebook Insights to quickly determine what's working and what's not. It is easier now more than ever to try new things and "fail quickly".
One possible missed opportunity is Facebook Questions, which is currently underused according to the study.
Additional resources about Facebook Pages
Darren and Theo shared many insightful tidbits that it's really impossible to capture them all in one blog post. If you have the time, you can watch the full video of the meetup on YouTube.
For further coverage check out the following links:
Photo: Linda Liu