As a Tech Club organizer, I'm looking forward to NTEN's Member Appreciation Month this November. Every year, NTEN says thank you to its member community of nonprofit professionals committed to using technology for social change by offering a full month of free programming and prizes exclusively for NTEN Members, plus special local events and content. If you're not an NTEN Member, you can learn more and join today just in time for the celebration: http://www.nten.org/join!
In addition to supporting Net2van's regular events NTEN is also sponsoring our November 29 NGO Ho Ho. Join me in giving them some #NTENthanks.
Kick off the celebration with NTEN's 2014 Year In Review: Community Impact webinar on November 3 (http://www.nten.org/events/webinar/2014/11/03/2014-year-in-review-nten-community-impact) and hear from NTEN staff and Community who will share their experiences and highlights from 2014; then look forward at what's ahead for 2015. Check out the full list of upcoming webinars and register: http://www.nten.org/events. All November webinars are free for NTEN Members.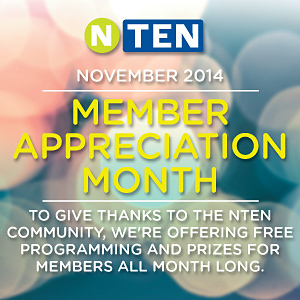 Win a prize! NTEN will be giving away daily prizes, and special prizes for members actively engaged in the community. Plus, they'll be awarding two grand prizes: an engagement award for an NTEN Member who's the most active in the community during MAM, and the renewal award for a Member who renews before November 30th.
Learn more about MAM and join the celebration on the event page: http://www.nten.org/mam.