In February 2013 Fundraiser Grrl was born, from a desire to bring together fundraisers from around the world – to commiserate, eye roll, sympathize and laugh out loud at the bizarre and amazing moments we all experience in our crazy wonderful careers. Since it began, over 200,000 fundraisers have visited the site, and it averages over 1,000 visitors per day.
Rory is a major gits fundraiser, who had little to no experience with the digital marketing, when she started the site. In this session, she will share what she has learned about using social media to build a community, what worked, and what didn't, and how to apply this to your work in the non-profit sector.
When: Tuesday, July 8 2014, 5:30 PM – 7:30 PM
Where: HiVE Vancouver, #210 – 128 W Hastings St.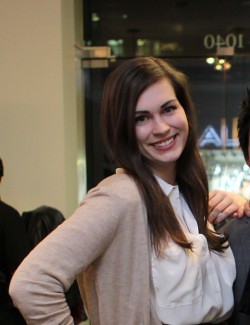 RORY GREEN
Rory Green has been in the philanthropic sector for over eight years and is currently the Associate Director, Advancement for the Faculty of Applied Science at Simon Fraser University. Rory has also worked in major and corporate giving at BCIT and the Canadian Cancer Society.
Rory has spoken at national and international fundraising conferences, most recently starring in the "Kaleidoscope of Philanthropy" Plenary Session at AFP International, San Antonio.
In her spare time Rory is the founder and editor of Fundraiser Grrl, the fundraising community's go-to source for comic relief. http://fundraisergrrl.tumblr.com/
AGENDA
5:30 – 6:00 PM: Networking and snacks
6:00 – 7:00 PM: Presentation
7:00 – 7:30 PM: Q&A and Wrap
TWITTER
Event hashtag: #Net2van
Host: @Net2van
Presenter: @RoryJMGreen
ACCESSIBILITY
Mobility Access: This venue does not have ramps and elevators and is not wheelchair accessible.
Hearing Access: Speakers at this event will use microphones.
Sight Access: Contact the organizers if you need an advance copy of the presentation.
We want everyone to be able to participate in the Net2Van community and events. Please don't hesitate to let us know what we can do to accommodate your needs.