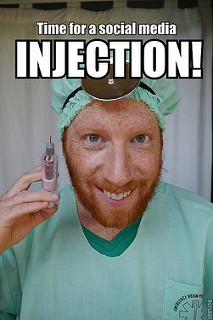 Thanks for RSVPing for Net2van's upcoming Social Media Surgery.
Does your nonprofit need help getting its social media strategy to a healthy place?
Join Net2van, HootSuite and our team of volunteer surgeons for personalized and hands-on assistance with your organization's social media strategy. Our team of social media specialists can help you navigate Facebook, Twitter, or answer any other questions you might have about using social media to support your organization's mission.
So that we can pair you with a "surgeon" that best suits your needs, please fill out this short survey! http://j.mp/16bYM4t
WHEN: Wednesday, September 25. 6:00 PM
WHERE: HootSuite Headquarters, 5 East 8th Avenue, Vancouver, BC.
RSVP: http://j.mp/1exXdW1
P.S. We still have room for more patients. Send your friends our way!