Via our friends at Demonstrating Value.
A new website and a special event to launch the fresh face of Demonstrating Value
We've given the Demonstrating Value website a major makeover, and now we're excited to share it with you. With new features and simplified site navigation, you can now enjoy quick and easy access to everything you need on the website.
On the evening of Monday September 24, at an event co-hosted by Vancity Community Foundation and SAP, three local social enterprises will present their recently completed performance snapshots. There will also be a panel discussion where enterprise managers and the consultants who helped them will speak on the benefits and challenges of creating Demonstrating Value snapshots.
Garth Yule, program manager of evaluation and community impact at Vancity Community Foundation will be there to share features of the new Demonstrating Value website, including the newgallery of performance snapshots, and present on dashboarding software from SAP.
Also, learn about SAP technology donations, connecting skilled volunteers with social enterprises, SAP green team and the Passion Capital Awards.
Date: Monday September 24, 2012
Time: 5:30 – 7:00 (doors open at 5:00)
Location: SAP, 910 Mainland St., Vancouver
Registration: $5 donation can be made upon registration or at the door.
Register now at http://dv-website-launch.eventbrite.com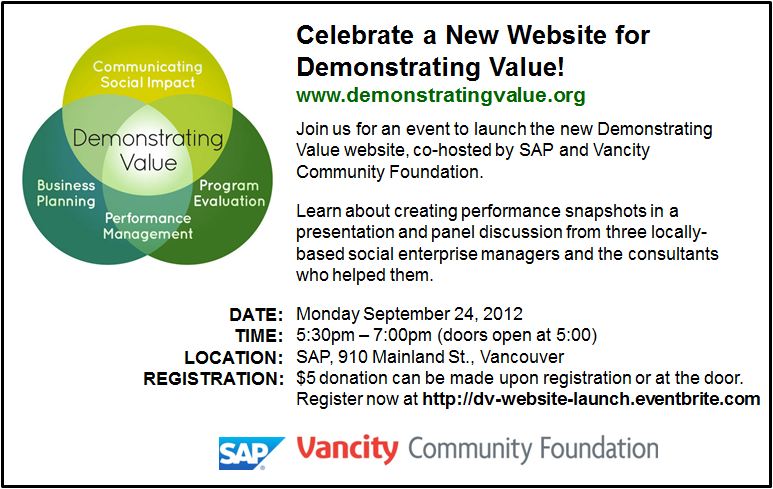 For more information, contact Demonstrating Value or visit www.demonstratingvalue.org.