Here's what I've been up to over the last month in my gig as NetSquared Local Community Curator.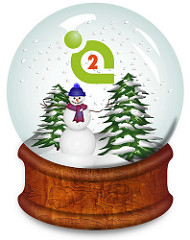 It's December, which means we're on the last page of our calendar. Team NetSquared is working hard to wrap-up some this year's projects. We've now completed all seven of our NetSquared Camps and have just one more Global Leadership Council meeting left. But just because some things are coming to an end there's no reason for tears – rather let's reflect back on what we've learned over the year and share the gift of knowledge on the Washington DC group's quora page.
The future of NetSquared
The recent reorganization of NetSquared sees the emergence of a unified content and community team for both the NetSquared and TechSoup brands. Sheetal Singh is our new TechSoup champion, taking over from Billy Bicket who is going to take on platform work.
What does that all mean to NetSquared organizers? I'll be able to share more by mid-December when Sheetal sends her community update, but in the short-term you'll start to see a regular stream of new content on the NetSquared community blog.
NetSquared Camps
This fall's major initiative was the NetSquared Camps, which were seven regional unconferences and workshops produced by our local organizer network. The camps were an amazing opportunity to expand the NetSquared local experience from a brief daytime or evening event into an all-day extravaganza. It was also a great excuse for us to get local organizers together for face-to-face meetings, since the big lesson from the Global Leadership Council experiment this year was that we can kickstart inter-organizer relationships by getting people together in the same room. Which, honestly, shouldn't have been too much of a shock since that's the key insight that keeps all of us local organizers doing our meetups from month to month.
Each of the camp organizers has written a blog post sharing their insights, photos and video. There are lots of great ideas to steal for your own events!
Platform
The tenth release of the NetSquared platform is now live. Many of the changes were beneath the hood, but you'll definitely notice the improvements to the community blog. We're now randomly featuring bloggers from the local network. You may see your face next time you go to http://www.NetSquared.org/blog!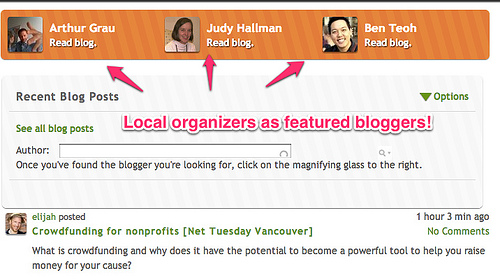 Windows 8 Apps for Social Good Contest
The Windows 8 Apps for Social Good Contest invites both new and seasoned developers to create an app for "social good" – and you could win cash prizes to help fuel your dream and keep it going!
There are already five entries in the contest. Check out their project pages and use the social share buttons on the one you think is coolest.
Note: the contest is only open to residents of the USA. But anyone can vote and share!
December events
A quick scan shows ten events happening across the NetSquared local network. That's a big drop from the 21 in November… Curse those holidays! ?