RSVP: http://cmpotluck.eventbrite.com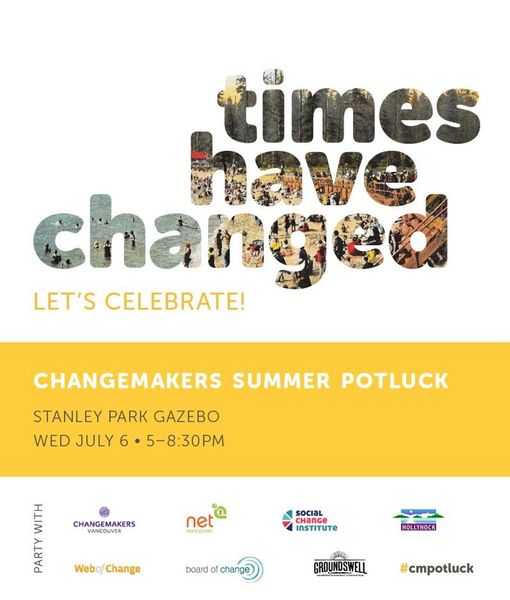 Let's Celebrate!
Changing the world is hard work, so let's get together to take a moment to celebrate the strides we've made thus far! Join us on July 6th for the Changemakers Summer Potluck in Stanley Park – it'll be an enjoyable and open event to all so we can hang out with our friends, colleagues and families.
Event Style: Outdoor potluck picnic. Bring food and drink to share. We bring the community!
RSVP: http://cmpotluck.eventbrite.com
There's no admission charge, but please RSVP so we know how many people to expect.
The Changemakers Summer Potluck is a joint event bringing together members of the following organizations:
• Changemakers Vancouver @changemakersvan
• NetSquared Vancouver @Net2van
• Hollyhock Leadership Insitute</a> @HollyhockLife
• <a href="http://www.webofchange.com/">Web of Change @WebofChange
• Board of Change @BoardofChange
• Groundswell @groundswellyvr
• SFU Radius @radius_SFU
• HIVE @HiveVancouver
• Spring University @spring_is
•  Connecting Environmental Professionals @CEPVancouver
• Beyond Maybe: Social Impact Learning & Support Group @beyondmaybe
• And you?