I'm gonna host a #commbuild chat on May 7. You should join us!
TOPIC: Growing your community: hacks for finding your tribe
DATE: Tuesday, May 7, 2013
TIME: 1–2 PM ET/ 10–11 AM PT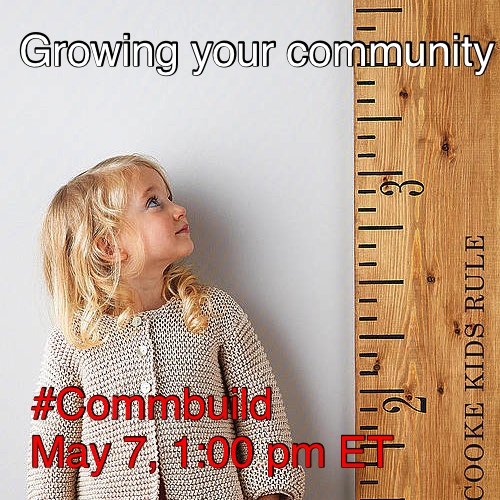 Starting a community can be daunting, and growing it can be even harder. How do you grow your group so that it isn't just you talking to an empty room? Because THAT is demoralizing! :-p
There are tricks and hacks (AKA "best practices") that you can use to accelerate your community growth. Join the #CommBuild-ers to learn from grizzled experts and share your secrets to community growth and success.
Join the tweet chat and follow the hashtag #commbuild.
YOUR FACILITATOR
Elijah van der Giessen must be 100 years old, because he started doing Community Building back when "online social networks" consisted of email. Eli is the NetSquared Local Community Curator supporting a global volunteer network of 50 groups that each year hold over 450 events for the nonprofit technology sector. He's also been the volunteer coordinator for outdoor festivals, environmental NGOs and Canadian Idol.
ABOUT #COMMBUILD
These conversations are focused on issues and topics relevant to those working on community building or in community management roles. They are open to anyone interested in learning and sharing about building community, on and offline, with the use of social media or other technology tools.